ARMONK, New York—(September 7, 2010) During the recently held Spitfire User Conference in Chicago, Spitfire Management, LLC, announced the development of an Android 2.2 app for smartphones and other mobile devices to work with the Spitfire Project Management System. The announcement was greeted with applause from the Spitfire users in attendance. "It's a brilliant use of cutting edge technology," said Scott Denahan, IT Manager at J2 Engineering, Inc. and "This is a good thing. Having Spitfire be so portable makes this truly applicable out in the field," said Jeff Riesberg, Midwest Regional Manager of CECO Concrete Construction.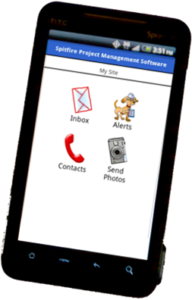 More than just a web browser portal, the Spitfire app was designed to take advantage of the unique capabilities of smartphones. The app allows anyone with a device running the Google Android 2.2 operating system to send photos to Spitfire's construction project management software; to call project team members without cluttering the phone's contact list; to receive alerts about time-sensitive issues; and to review, access and update project documents.
Many Spitfire users at the conference were excited about the functionality of the app for Android. "I think it's a great idea," said Kevin Graham, System Administrator at YMC, Inc. "I like the idea that you can take a picture and geo-cache it. That will be very useful as proof for change orders."
Tom Schaefer, CFO of Horizon Retail Construction, Inc., added, "This will change the way our project managers will be able to run their jobs and communicate with clients and subcontractors. It is a revolutionary improvement."
Spitfire Management created the app for Android after recognizing that Google's platform provided solutions to specific end-user requirements, such as getting photographs from out in the field into the project management system quickly and easily. "We started with the goal to provide single-step uploading and cataloging of on-site photos and then added other tools that made sense for the person on a job site who needs project information," said Stan York, VP of Development at Spitfire Management, adding, "Google's Android platform was selected for various reasons including the choices created by the proliferation of Android devices both currently planned and available today."
The Spitfire app for Android 2.2 can be deployed without any extra software by any site with a public URL running Spitfire Project Management System V4.1, available now. Anyone interested in more information can send an email to android@spitfiremanagement.com.
About Spitfire Management
Spitfire Management LLC, the privately held developer of Spitfire Project Management System, specializes in construction and capital construction project management and document control software.   From the start, Spitfire Project Management System has been a browser-based system for the benefit of its worldwide client base.   For more information, visit www.spitfiremanagement.com.
Android is a trademark of Google Inc. Use of this trademark is subject to Google Permissions.